Welcome! | Collection | Sellers & Links | ManekiNekoClub | Archives
Konnichiwa!

Welcome to the Lucky Cat Museum!
Home of Maneki Neko, Japan's Beckoning Cat!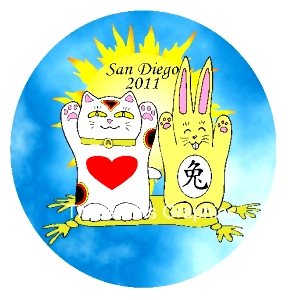 Hear ye, Hear ye!
Announcing the soon-to-be opening (August?)
The Cat Fancier's Association Foundation's
THE FELINE HISTORICAL MUSEUM
in Alliance, Ohio
(Yes, we finally will have a real cat museum in America!)
***
Also announcing a newly opened exhibit!
MANEKI NEKO
Japanese Beckoning Cats from Talisman to Pop Icon
Mingei International Museum, Balboa Park, San Diego.
And an excellent new book to go with it!
MANEKI NEKO: Japan's Beckoning Cats
From Talisman to Pop Icon.
Text: Alan Scott Pate.
Photography: Lynton Gardiner & Anthony Scoggins.
Design: Jonathan Louie.
***
Now please remove your shoes, and MEOW to come in ...
Thank you for visiting!
***

Official Directory to the Japanese
ManekiNekoClub's English Pages

---
Welcome! | Collection | Sellers & Links | ManekiNekoClub | Archives
Send email to webmaster: donaldmoon@aol.com
---